These cute early relationship quotes presented here are the perfect way to express how you feel at the beginning of your journey together.
Ah, a new love. It's exciting and unpredictable, but it can also be overwhelming. After all, the most stimulating human emotions can be especially intense in the early stages. Sometimes when you don't have words to express the depth of your feelings, a date about dating someone new can say a lot about you.
25 Cute early relationship quotes
These phrases about new love relationships are the perfect way to express how you feel at the beginning of your journey together.
The best thing about knowing you is anticipating that each day will bring me new surprises, all about you!
I knew you were special from the moment we met. How I am looking forward to all our mornings.
Love, at first sight, has nothing special about love at the first sentence. I have appreciated all of our moments of meeting you that we have shared. May they continue and keep coming!
Always remember the three R's of new relationships: respect each other, surrender to the wonder of your love and gently respond to every opportunity you have.
Have you ever felt your heart race while you were on a roller coaster, or did you feel it fluttering at the idea of ​​your most coveted toy on Christmas Eve, or did you feel calm sitting down after running? I felt all of that combined the moment we met. You still thrill me in all those wonderful ways!
Being together and doing nothing can be the best way to pass time and mean everything.
The new love can rise and fall as it flows and flows, but what remains are the things we have discovered about each other. I would do it all over again because it brought us to this love that we share today.
A world of joy can be found in a simple moment shared among like-minded spirits who care for each other like us.
Just the thought of losing you is enough to realize that time is irrelevant when it comes to how deep I hold you in my heart. I am so glad that we met.
What started as an attraction has turned into love. May we grow together now that we discover each other.
I enjoy the journey we are on. We are the explorers and creators of our relationship. Let's go somewhere wonderful from here. It all depends on us, and I am very happy to have chosen you.
Knowing what you want in a lover and in a partner can take only a moment when you know yourself. I knew it was you from the moment our eyes met.
Just so you know, I'm making the best memories of my life every time I go out with you.
From the moment I met you, I began to understand why all my past relationships ended: so that you and I could start.
It is not the time that you have been with someone that matters, but the love that you share in your heart.
Phrases about new relationships for him – cute early relationship quotes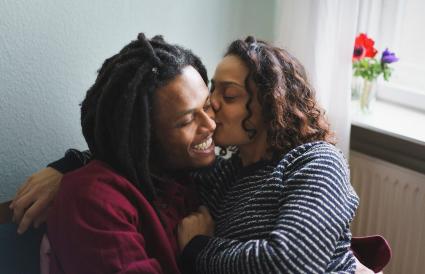 At first, the phrases about the relationship show your loved one that you are romantic and that you care. If you're having trouble expressing how you feel, try these lines:
Your incredible strength and kindness amaze me every day.
Although I'm not a morning person, waking up next to you always makes me smile.
Being with you has been a constant flow of laughter, joy, and incredible experiences.
I couldn't have asked for a better companion, confidant, and best friend.
I am grateful for the struggles we have faced together because we have grown together as a couple.
You can also make him smile with a fun date that tells him how much you love him with something in a good mood.
Phrases about new relationships for her
Maybe you can feel your tongue-tied when it comes to sharing your true feelings about your partner. Share these thoughts on a card or in-person to show your partner how you really feel about her:
I am grateful to be with someone who has such a loving heart.
No one has made me laugh as much as you, and for me, there is nothing sexier than that.
Your caring and rooted nature is just one reason I love you so much.
You inspire me every day to live life to the fullest, and I look forward to many new adventures together.
I have never loved someone like that before, and I feel so lucky to have you in my life.
Famous people talking about new love
If you're looking for famous quotes about love in a new relationship, consider what these historical figures and modern celebrities think about the joy, fear, bewilderment, and surprise of new relationships.
Kirsten Dunst
Kirsten Dunst gracefully switched from being a brilliant child star to a young and consummate protagonist without batting an eye as she grew up before our eyes with roles like Lux Lisbon in the brilliant film The Virgin Suicides. She expressed that you can never control who you fall in love with or when you fall in love. Even if the relationship is new, and it may not be a good time in your life, falling in love occurs naturally.
Eleanor Roosevelt
Eleanor Roosevelt is known for being the faithful wife of President Franklin D. Roosevelt, as well as for her many accomplishments and activism. When it comes to new relationships, Eleanor Roosevelt was quite honest. She felt people hold their hearts out of fear of rejection from who they want.
Mae west
Never shy about her controversial statements, eclectic artist Mae West felt that individuals should be given a second chance after a breakup … but that the second chance should be with new lovers! There was no concern about repudiation in his theory.
Lord Byron
As the leader of the romantic movement and as a famous poet, Lord Byron had a lot to say about love. When it comes to budding relationships, Lord Byron expressed his opinion that friendship can indeed become romantic love, but he did not believe that love could become mere friendship again once the sparks had started.
Shelley Long
Emmy-winning actress Shelley Long has enjoyed an illustrious career, and is perhaps best known as Diane Chambers on Cheers. Diane and Sam remain a symbol of beloved fictional couples on eighties television. Shelley Long had a date that was particularly relevant to new relationships. She thought that as long as you don't give up, quit or run away when things get tough, you can only win to win in a relationship.
Anna Sexton
Anna Sexton was a Pulitzer Prize-winning poet who achieved both popularity and critical acclaim. When it comes to new relationships, she felt they couldn't deny or hide. Even if it's small and new, she thought it was like a cough, something that was simply revealed without choice.
Using dating to help your burgeoning relationship
With these quotes, you can find the words for some of the most confusing aspects of the fresh love that promises to become something deeper in your life. You can also choose to use these quotes in the following ways:
Gifts: If things get serious at a fast pace, you may want to wear a new relationship quote on a t-shirt, mug, or keychain so your love can enjoy a reminder of your feelings over and over again.
Sentimental Cards: When writing greeting cards for your partner, you can choose to include one or two quotes with your original words.
Social Networking Pages: You can send one or two quotes about new relationships on your social networking pages. It may be a subtle hint towards the person you love, but it also provides the cushion of simply being an ambiguous post.
Romantic gestures: When you want to charm your new girlfriend or boyfriend, you can choose to talk romantically when they go out on a date. Learning some natural phrases can help you stay cool when the pressure heats up to become poetic about your relationship.
The options are truly limitless when it comes to how you can use a date about new relationships. These quotes may inspire you to create some of your own. Experiment by saying them out loud or writing them down, then find out which ones are best for your voice and your feelings.
Love is in the air
Take these quotes when you need some encouragement or inspiration in your new relationship. When you need convenient prose to convey what's in your heart, come back here and read about the complexity of new relationships in all their glory.