Give your marriage ceremony a solemn moment with love quotes in the bible for a wedding full of special meaning around the love you profess and the commitment you make to God and the witnesses to your union.
Religious ceremonies contain a great emotional and spiritual dose. To give it a personal seal, you will be able to choose biblical verses and ask the priest, pastor, or minister who will carry out the celebration, to include them in the marriage ritual.
We share some ideas for you to be inspired and choose the biblical portion that speaks most deeply to your soul and that even accompanied by phrases of love may serve you for your vows, to reflect on the words of thanks to the people to whom you will send the Marriage cards and shorter ones can be incorporated into the decoration for marriage, with biblical messages through posters in different locations.
Gospel of Saint John – love quotes in the bible for a wedding
These words of the New Testament will reinforce their union and their feelings because in this is expressed the love that the Creator taught his disciples and all those who followed him and practiced his lessons.
1. John 13:34: "I am giving you a new commandment: Love one another. Love each other as I loved you."

2. John 15: 9: "I have loved you as my Father loves me. Remain in my love."

3. John 15:13: "The greatest love that someone can show is to give their lives for their friends."
Book 1 of John
With these verses charged with the best divine energy and immense affection, complementing them with short phrases of love will help you to link your beliefs and build the vows that you will dedicate to your loved one during the ceremony.
4. 1 John 4:11: "Dear brothers, since God has loved us in this way, we too must love one another."

5. 1 John 4: 8: "He who does not love does not know God, because God is love."

6. 1 John 4:10: "This is love: not that we have loved God, but that he loved us and sent his Son to be offered as a sacrifice for the forgiveness of our sins."

7. 1 John 4:19: "We love God because He first loved us."

8. 1 John 4:16: "And we have come to know and believe that God loves us. God is love. He who remains in love remains in God, and God in him."

9. 1 John 4:12: "No one has ever seen God, but if we love one another, God remains among us, and his love is fully manifested among us."

10. 1 John 4:20: "If someone affirms:" I love God ", but hates his brother, he is a liar; for he who does not love his brother, whom he has seen, cannot love God, who has not seen. "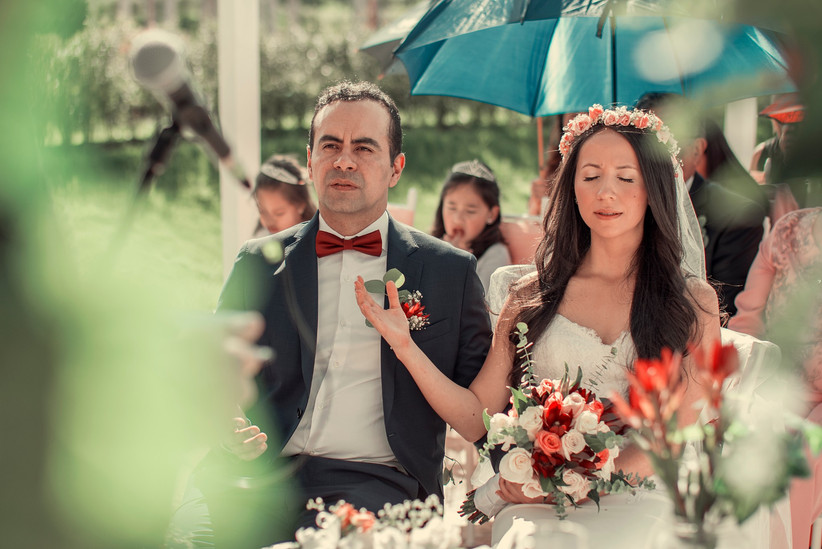 Read also: love quotes by famous authors and poets
Psalms Book
Some of these Psalms can even be sung, to liven up the religious ceremony, and the shorter ones will serve to integrate them into the decoration; little signs attached to chairs or wedding centerpieces to share your faith with guests.
11. Psalms 33: 5: "The Lord loves justice and law; the earth is full of his love."

12.  Psalms 103: 8: "The Lord is gracious and compassionate, slow to anger and great in love."

13.  Psalms 42: 8: "This is the prayer to the God of my life: that the Lord sends his love by day, and his song accompanies me by night."

14. Psalms 143: 8: "In the morning let me know of your great love because I have placed my trust in you. Point out the path that I must follow because I raise my soul to you."
Book of Romans
Passages with messages of love and spirituality with which they will have the option of being part of the design of invitation cards, so they can share these verses with all the people they want to accompany in their union.
15. Romans 13: 9: "For the commandments that say," Do not commit adultery, "Do not kill, "Do not steal, "Do not covet, "and all the other commandments, are summed up in this precept:" Love your neighbor as yourself. ""

16. Romans 8: 38-39: "For I am convinced that neither death nor life, neither angels nor demons, neither the present nor the things to come, nor the powers, neither the high nor the deep, nor anything one in all of creation will be able to separate us from the love that God has manifested in Christ Jesus our Lord ".

17. Romans 13:10: "Love does not harm a neighbor. So love is the fulfillment of the law."

18. Romans 12: 9: "Love must be sincere. Abhor evil; cling to good."

19. Romans 13: 8: "Do not have outstanding debts with anyone, except to love one another. In fact, whoever loves others has fulfilled the law."

20. Romans 8:28: "Now we know that God arranges all things for the good of those who love him, those who have been called according to his purpose."

21.  Romans 12:10: "Love one another with brotherly love, respecting and honoring one another."

22.  Romans 5: 5: "That hope will not fail us because God gave us the Holy Spirit, who has poured out God's love on us."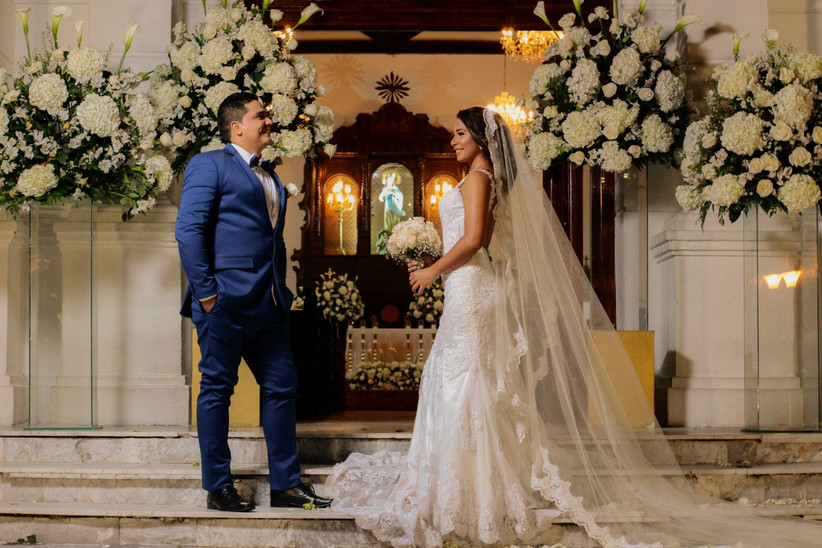 The first letter to the Corinthians
In this first letter, you will find verses in which love prevails and which is considered the answer to many of the problems.
23. 1 Corinthians 2: 9: However, as it is written: "No eye has seen, no ear has heard, no human mind has conceived what God has prepared for those who love him."

24. 1 Corinthians 10:24: "Let no one seek his own interests but his neighbor's."

25. 1 Corinthians 13: 1: "If I speak in human and angelic languages, but I have no love, I am only a metal that resounds or a cymbal that makes noise."

26. 1 Corinthians 13: 2: "If I have the gift of prophecy and I understand all the mysteries and I have all knowledge, and if I have a faith that manages to move mountains, but I lack love, I am nothing."

27. 1 Corinthians 13: 3: "If I distribute to the poor all that I possess, and if I give my body so that the flames consume it, but I have no love, I gain nothing from that."

28. 1 Corinthians 13: 4-5: Love is patient, it is kind. Love is not envious or boastful or proud. He does not behave rudely, he is not selfish, he is not easily angry, he does not hold a grudge.

29. 1 Corinthians 13:13: "Now, therefore, these three virtues remain: faith, hope, and love. But the most excellent of them is love."

30. 1 Corinthians 16:14: "And whatever you do, do it with love."
Letter to Timothy
This is the first letter that Paul wrote to Timothy and is considered the teaching book on leadership.
31. Timothy 1: 7: "For God has not given us a spirit of timidity, but of power, love and self-control."

32. Timothy 4:12: "Let no one look down on you for being young. On the contrary, believers see in you an example to follow in the way of speaking, in conduct, and in love, faith, and purity."

33. Timothy 6:11: "You, on the other hand, a man of God, flee from all that, and strive to follow justice, piety, faith, love, perseverance, and humility."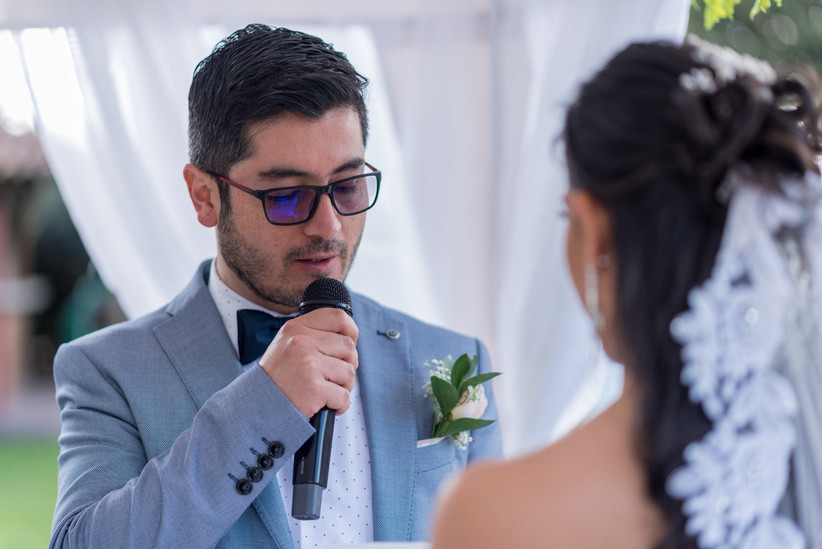 Letter to the Ephesians
The purpose of this book is to share the discipline to become true children of God. These words will help you strengthen your beliefs.
34. Ephesians 4: 2: "Always be humble, kind, have patience, support each other with love."

35. Ephesians 3: 16-17: "I ask you, through the Spirit and with the power that comes from his glorious riches, to strengthen you in the depths of your being, so that by faith Christ may dwell in your hearts. And I ask that, rooted and grounded in love. "

36. Ephesians 4:15: "Rather, by living the truth with love, we will grow to be in everything like the one who is the head, that is, Christ."

37. Ephesians 5: 25-26: "Husbands, love your wives, just as Christ loved the church and gave himself up for her to make her holy. He purified her, washing her with water by the word."

38. Ephesians 5: 2: "And lead a life of love, just as Christ loved us and gave Himself for us as a fragrant offering and sacrifice to God."
Letter to the Thessalonians
The purpose of these letters is to share and educate those who accept it in faith. You will be able to select those with which you identify and have meaning for the new life that you are about to start represented in the wedding rings.
39. Thessalonians 1: 3: "Brothers, we must always give thanks to God for you, as is fair, because your faith increases more and more, and in each one of you love continues to abound."

40. Thessalonians 3:12: "May the Lord make you grow so that you love each other more and more, and everyone, just as we love you."

41. Thessalonians 3: 5: "May the Lord lead you to love as God loves, and to persevere as Christ persevered."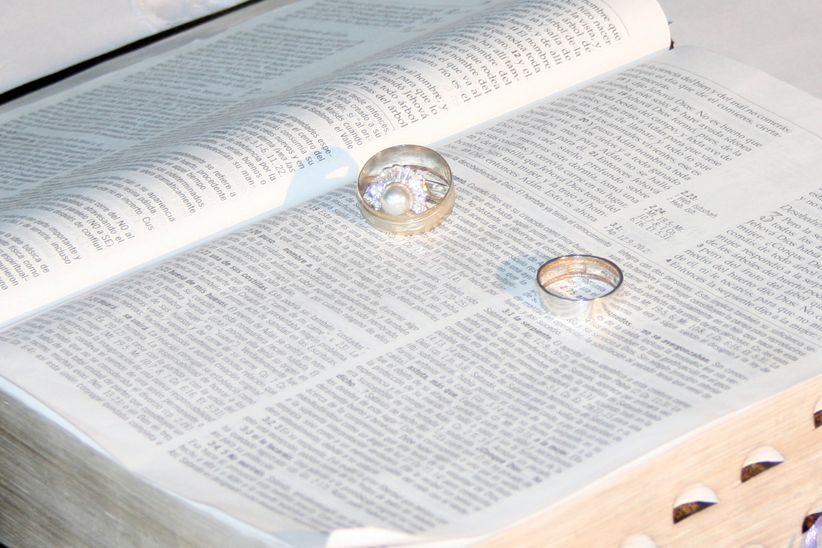 Book of Proverbs
In the wise book of Proverbs, you will find teachings and advice that will also be useful to you.
42. Proverbs 21:21: "He who goes after justice and love find life, prosperity, and honor."

43. Proverbs 3: 3-4: "May love and truth never leave you: always wear them around your neck and write them in the book of your heart. You will count on the favor of God and you will have a good reputation among the people."

44. Proverbs 10:12: "Hate is cause for dissension, but love covers all faults."
Other verses
We share some additional verses that can serve as reinforcement to those previously shared. Also to integrate them into a letter that they want to convey to their love before the ceremony.
45. Luke 10:27: "In response, the man quoted: -" Love the Lord your God with all your heart, with all your being, with all your strength, and with all your mind ", and:" Love your neighbor as to yourself".

46. Lamentations 3: 22-23: "The great love of the Lord never ends, and his compassion never runs out. Every morning his goodness is renewed; very great is his faithfulness!"

47. Hebrews 13: 1-2: "Keep loving each other brotherly. Do not forget to practice hospitality, because thanks to it some, unknowingly, hosted angels."

48. Mark 12:30: "Love the Lord your God with all your heart, with all your soul, with all your mind, and with all your strength".

49. Colossians 3:14: "Above all, clothe yourselves with love, which is the perfect bond."

50. Peter 4: 8: "Above all, love one another deeply, because love covers a multitude of sins."
Expressing the creed and connecting with the more spiritual side is something that can be integrated with each part of this important event, many of these love quotes in the bible for a wedding may be useful as phrases for wedding invitations and others to integrate them into the decoration. May this spiritual and legal connection be the preamble for you to later live a wonderful honeymoon.